Special Offers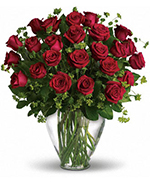 $

189.95
When it comes to romance, the red rose rules! And when it comes to delivering romance in a big way, two dozen gorgeous red roses are a brilliant choice. Twenty-four stunning red roses are arranged with greenery and delivered in a feminine vase. [...]
$

74.95
Oh, what a fine day it will be when you have this delightful spring bouquet delivered to someone special. Everyone will delight in the vibrant colors and bountiful blossoms, all thoughtfully arranged in a beautiful leaf-lined vase. Light yellow roses, hot pink spray roses, tulips and gerberas, yello [...]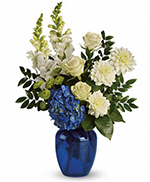 $

79.95
Sending this brilliant blue and white bouquet will surely garner oceans of appreciation from whoever receives it. Dazzling blue hydrangea, green roses and button spray chrysanthemums, divine white dahlias and snapdragons plus huckleberry arrive in a striking cobalt vase. [...]
Fresh, vibrant and enthralling - flowers and plants are the green healers that the world cannot do without. Within their beautifully delicate petals, not only do they hold the secret to better health and mood, but they are also splendid gifts to lighten up someone's day.
Gifting a fresh bunch of blooms has been greatly treasured since prehistoric times. Regardless of the occasion, flowers don't tell, they show others how you feel about them. Unique flower arrangements, the color and the type of bloom you pick, all work together to deliver multiple messages without having to put them in so many words. And isn't it incredible how these messages can differ from flower to flower?
Recent Products
Cannot make it home on Mother's Day but want your mom to know what she means to you?
Forgot to buy a birthday present for your friend?
Are you visiting a loved one who's a bit under the weather?
Want to offer your condolences to someone who has lost a dear one?
Or perhaps you want that special date to be exceptionally vibrant and delightful! For all this and many more reasons and occasions, you can find just the right flower arrangements at Winnipeg Flowers Delivery.
A Little Color Therapy
Colors have been associated with different moods. Red can mean love, passion and desire. Yellow is linked to friendship, joy and lightheartedness. Blue symbolizes beauty, hope and calm while green signifies safety, health and good fortune.
Even more important is the fact that we all have our own personal relationships with colors that trigger cherished memories or wistful and sentimental nostalgia.
Needless to say, picking a gorgeous bunch of any color from Winnipeg Flowers Delivery can help you meet your preferences and deliver the tender message you want to convey in the right way. It is also the perfect chance to evoke a particular feeling in the person to receive your bouquet.
Same Day Delivery for Every Occasion
Flower arrangements are a very fitting gift for every single occasion. They are not something that should be considered only for a wedding or similar affairs. A gift of flowers is impressively versatile and meaningful. When you send someone flowers, you are basically preferring the traditional way but in a more modern and creative style to express your love and care for them. Be it iris, lilies, carnations or simply a bunch of beautiful roses, we are here to deliver the right measurement of wonderment and heartfelt gratitude to the recipient's doorstep.
Customize and Personalize
At Winnipeg Flowers Delivery, our expert florists are always at work to handcraft beautiful flower arrangements for your loved ones. Not only that, you also get to have a say in how you want us to put together your perfect flower arrangements or baskets.
While no other gift can outshine your perfect flower arrangement, there's no harm in including an add-on. On special occasions like birthdays, Thanksgiving, Christmas, Father's Day or an anniversary, you can make it more interesting by adding a personalized touch like a touchy note, balloons or simply a box of chocolates. You can find it all here!
Whether you are going to see a loved one who's sick at the Health Sciences Centre Winnipeg or have to attend one of your siblings' graduation ceremonies at the University of Winnipeg, flowers, flowers and more flowers can make your presence increasingly joyful.
Even if there is nothing to celebrate, adding a vase full of flowers to your table can cure those frazzled nerves today!